The
Bioclimatic Whole House Air Purification

Advantage at an Affordable Price!
Provides central Air Purification in lieu of a single room purifier.
Installed in your existing forced air HVAC system. Unit is out of sight, safely away from pets and children.
ETL Listed (Complies with U.L. Standard UL-867).
Requires annual cleaning, not weekly cleaning like other purifiers.
The ionization tubes included with the Bioclimatic system last up to three years. Replacement tubes are available. The entire system does not have to be replaced.
Bioclimatic has been manufacturing over 23 years and is installed in thousands of industrial and commercial applications—We know air purification!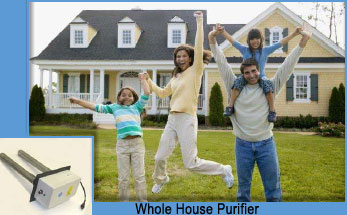 Contaminants Controlled:
Mold
Mildew
Bacteria
Cigarette & Cigar Smoke
Cooking Odors
Pet Odors
Cleaning Agents
Dust & Soot Particles
Formaldehyde
Ammonia
Volatile Organic Compounds (VOC's)
"My wife smokes and I'm a non-smoker. I bought the system and installed the system under an hour. My home no longer smells like an ash tray! The results were dramatic and were immediate." B. Akers, AK
Why buy single room air purifiers for hundreds of dollars each, when you can have whole house air purification for less? Let's do the math: 3 bedrooms, 2 baths, 1 kitchen, 1 living room and 1 dining room = 8 rooms total. 8 rooms X $500 (single room purifier) = $4000.00! The Bioclimatic whole house system is less than half the price!